Kitchen Exhaust
 System Cleaning
Take a look around your restaurant and find the difference between your dining area and kitchen. With the neat and calm dining tables with decorations around them, the dining room is a beautiful sight. However, that most likely won't be the situation inside your kitchen; the screams of chefs, the sizzling from the frying pan, and the mess will welcome you. If this is the situation in your kitchen, you definitely need a kitchen exhaust cleaning team.
What would be your customer's reaction to dirt and smoke inside your commercial restaurant kitchen? They probably won't feel like eating on your premises. This calls for action.
One of the main reasons behind the grime and smoke inside your kitchen is the improper functioning of your kitchen exhaust system. An exhaust system in its best condition pushes out the excess smoke and heat inside the kitchen and keeps it breathable. When the exhaust system works, highly inflammable grease vapors also form on its surface, hindering its functioning.

What is kitchen grease, and how does it affect your restaurant kitchen?
The kitchen grease is the leftover sticky residue that fills the cracks of the kitchen and coats every surface. It puts the kitchen in danger of catching fire. Different types of restaurants serve a variety of cuisine using various ingredients. The one ingredient that is common in all kitchens is oil. While cooking, oil droplets will form vapors, these reach out into the atmosphere, and mix with food particles. When it combines with the food particles, it becomes greasy and heavy. These grease vapors are highly flammable, so there are chances of fire when the grease passes through the exhaust with hot air and smoke.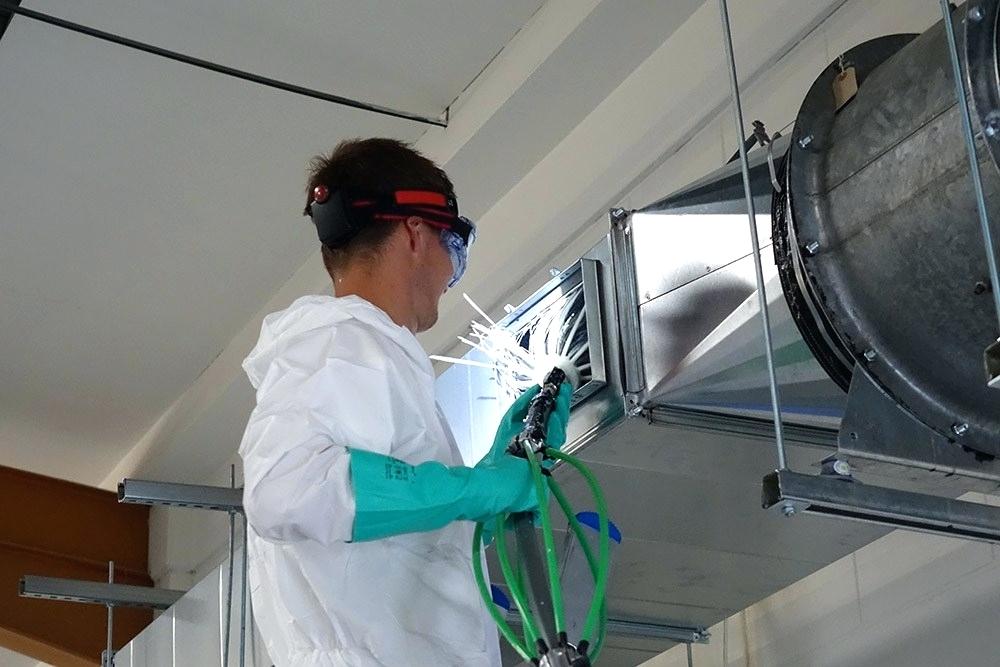 Get professional kitchen exhaust system cleaning services in Pittsburgh!
Even when you have cleaned your kitchen right after closing the restaurant, you may require professional deep cleaning. At times, regular cleaning won't be sufficient to save your restaurant from fire hazards and certain health hazards.
You need a professional kitchen exhaust fan cleaning to ensure the complete safety of your kitchen and its ventilation system. If your restaurant is situated in Pittsburgh, you don't have to waste your time searching 'restaurant exhaust "hood cleaning near me." Up In The Hood Cleaners offers you the best exhaust cleaning in the area.
What to expect from Up In The Hood Cleaners?
Don't expect anything less than the best when you call Up In The Hood Cleaners for commercial kitchen exhaust system cleaning. We examine your exhaust system, take photographs, check for damages, and give it a thorough cleaning using the highest quality product.
Our team is also proficient in a wide array of commercial kitchen cleaning services. Whether you need your exhaust hood or hood filters cleaned, or need a deep kitchen cleaning, let us help you. We fight grease with power and heat. This is not something your staff has the ability to do. 
In order to get your certification in order, you'll need a local hood cleaning company such as Up In The Hood Cleaners. So don't wait! The longer you wait for a thorough kitchen exhaust cleaning, the harder it will be, not to mention it will make scheduling tricky if you're waiting until the last minute. 
So take your phone and give us a ring to get kitchen exhaust system cleaning.
1850 Centre Ave, Pittsburgh, PA 15219